Shortly after the visit to the mysterious Koh Phangan Thailand, I was in Bondi, Australia visiting family and putting together a simple website for the singing bowl recordings I had done with sound healer Lifang.
My friend Niraj Naik, who I had been travelling with around Thailand, was now back in the UK and had asked me to help write some content for his new meditation system.
He gave me a load of points to research which I pulled together as a series of articles for his new web site.
It was while doing this research I first found out about the now mega famous 'Ice Man' Wim Hof and how he had discovered a way to overcome the body's autonomic immune system. Something which science had previously declared impossible.
His method was centred around a series of breathing techniques which had been proven, under scientific scrutiny, to have a 100% success rate at overcoming an injected endotoxin.
He also had something of a reputation for being a daredevil, having 26 world records for various feats including being immersed in ice for nearly 2 hours, running a half marathon barefoot through snow in the Arctic Circle, running a full marathon without prior training and without water in the Namibi desert. And even trying to scale Mount Everest in just a pair of shorts.
Overall he seemed like a pretty crazy guy and it was all freakishly fascinating stuff, but after I was finished writing, I kinda put it aside mentally as another interesting phenomenon. Something which I would look at in more detail another time.
A few months later I was back in the UK hanging out with Niraj. One day he was more excited than normal
"Dude, you're never going to believe this! We need to go to Amsterdam. We're gonna interview Wim Hof!"
"What that crazy Ice Man guy?"
"Yeah THE Ice Man. You need to record me interviewing him for my blog."
Niraj's blog had become semi notorious for the most viral infographic ever created; the now infamous 'What Happens One Hour After You Drink A Can of Coke' infographic.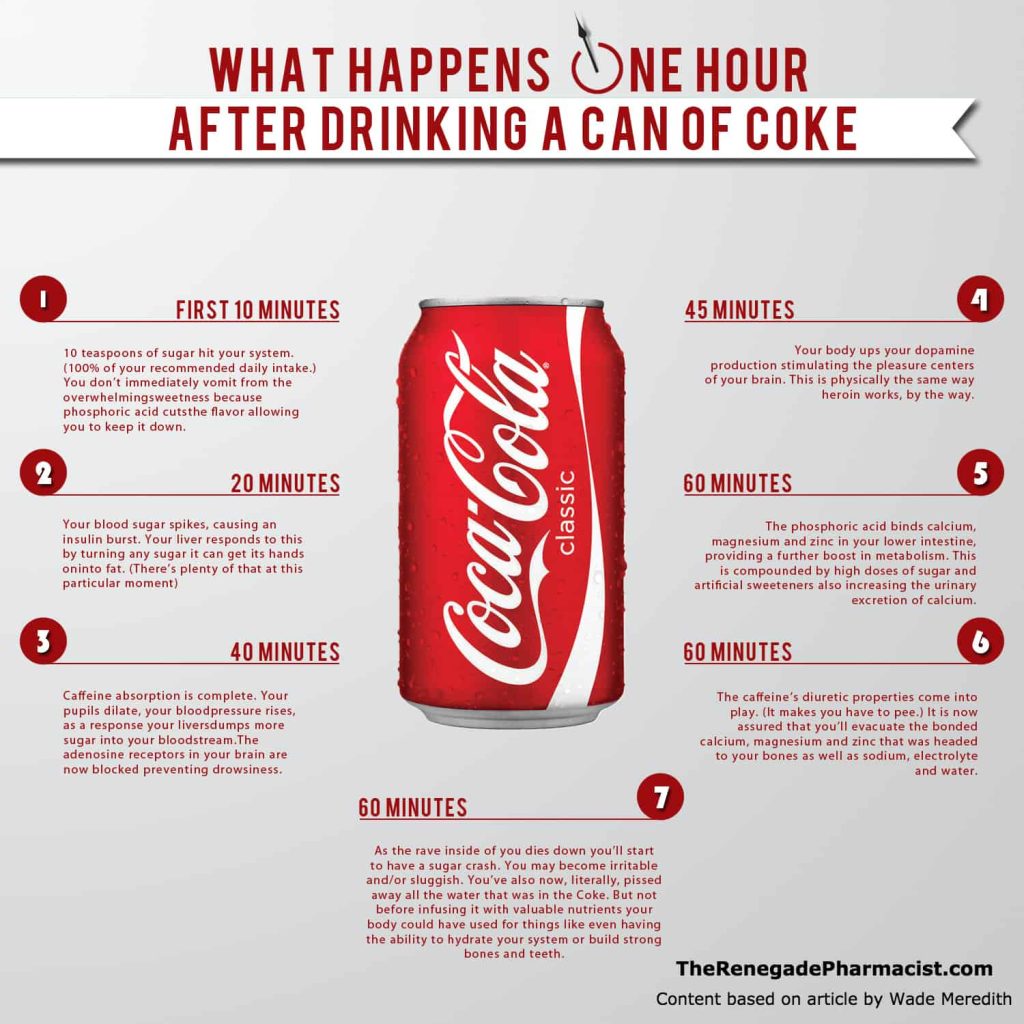 Off the back of this he had got in contact with Enahm, Wim's son. Niraj planned to interview Wim and create another infographic about The Wim Hof Method and his breathing techniques.
The next thing we were in Amsterdam, getting ready to meet Wim Hof. His son Enahm picked us up and we drove out about an hour near the German border to their new house / retreat center he had just moved to.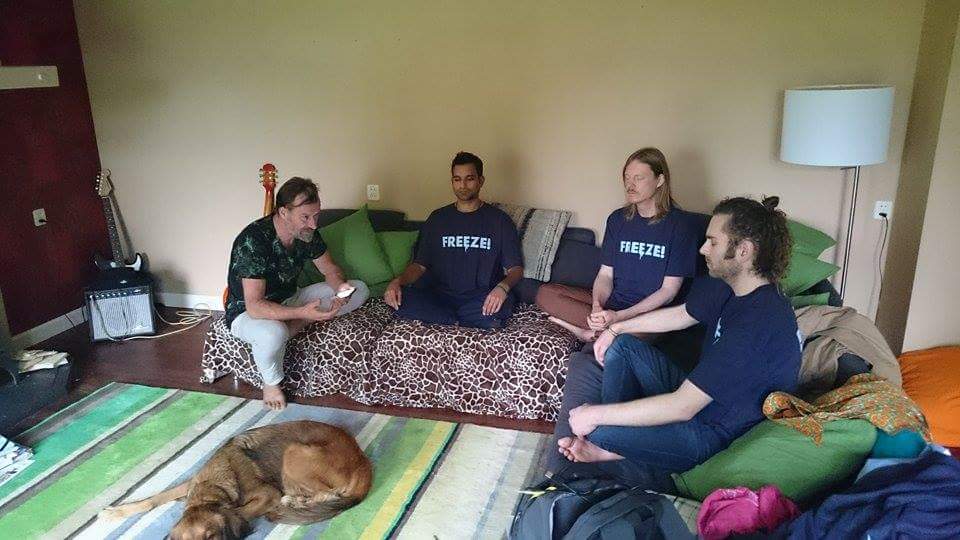 Lets just say as soon as we met Wim we knew this was gonna be an insanely interesting day.
The moment Wim found out we were all musicians he was bouncing around like an excited kid.
He picked up his guitar and started playing some funky blues riff and singing about being "Crazy Like a Monkey". Instantly we knew we had to get a chance to record him properly.
The infectious guitar riff was bouncing around my head the entire time we did the interview. Thankfully I was also filming Wim play his guitar for an off the cuff moment with a plan to use it later for the edited interview.
The interview itself was an experience, and Wim had us outside in the chilly October Dutch climate swimming in his outdoor pool. He claimed it was "only 9C" but it definitely felt colder and it's not something any of us had expected to be doing that morning either!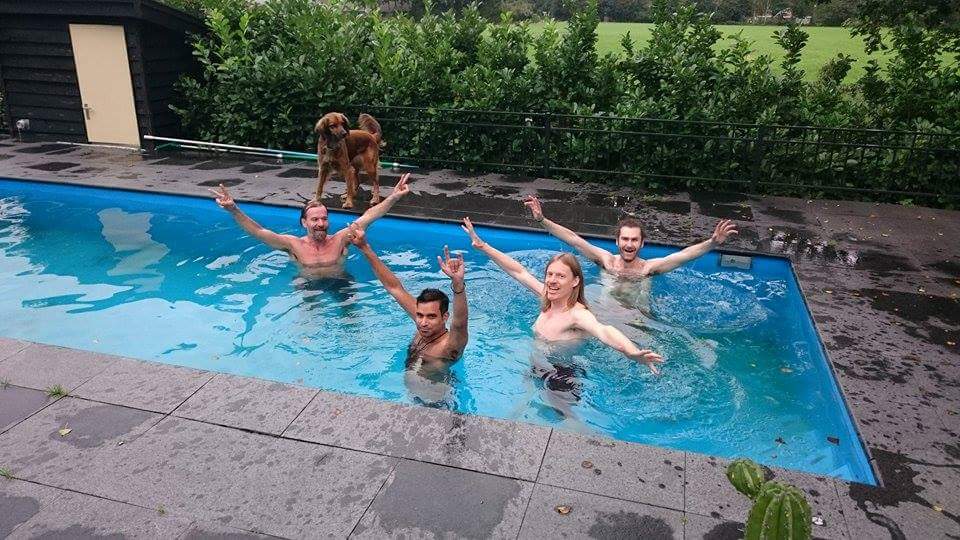 After the interview was over Niraj arranged for us to meet up with Wim at his garden house back in Amsterdam the next day, to record some music properly. We didn't know what we would record, we just knew we had to record something with Wim.
Later that evening back in the hotel room, I started looping together the blues riff Wim was playing on the video. I knew this was it!
We turned up the next day armed with a laptop and my trusty portable mic. I played Wim the loop from the day before and instantly he knew what he had to play.
I threw together a quick drum loop and got Wim to lay down a few takes. Wim's excited energy was going into overdrive and I had to work fast to capture him in the moment.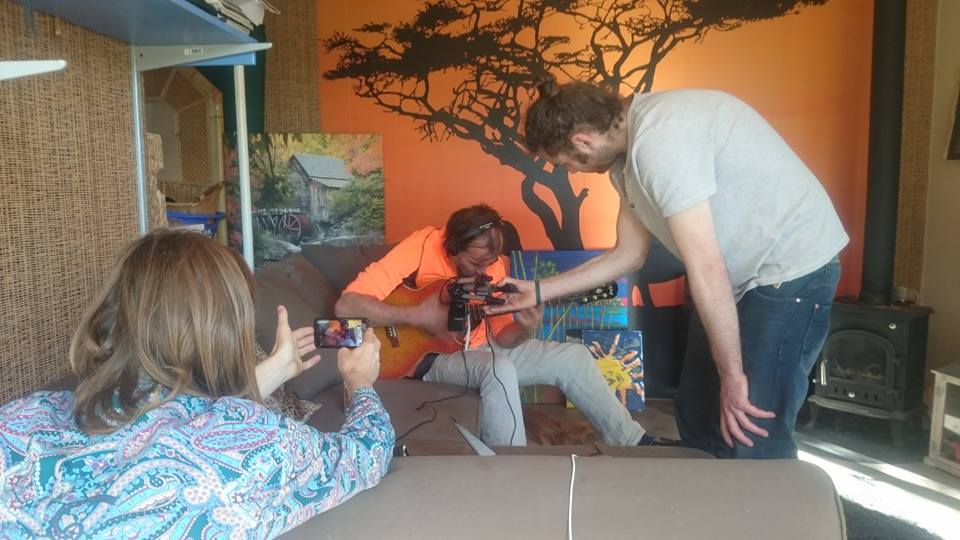 Next we got Wim to sing over the guitar and drum loop. We pushed him hard to get the right takes and by the end of it he was almost sweating.
"That was harder than Everest!" he half grunted and half shouted after the final take.
We definitely pushed him out of his comfort zone and he loved every minute of it!
As soon as we found out his son Enahm could play guitar too, we pulled him in to play a guitar solo. The track was now really taking shape in a crazy spontaneous way.
Back in the hotel room I started to chop up the takes from the day. Everything just fell into place like a sonic jigsaw. Chopping up Wims chants and voclas then dropping his sons guitar solo over the track, I knew we had captured some magic.
We met up with Enahm the next day and played him the rough demo. He was blown away.
The last thing he knew we had just been recording a load of random singing by his dad, with him jamming his guitar on top. The next thing he hears is a near finished song, complete with his own guitar solo.
He didn't know how to contain himself. The next thing I know both Enahm and Wim are inviting me to stay at the new house to finish the track and do more recording. It was an offer I couldn't refuse.
I ended up staying with Wim at his house for nearly month!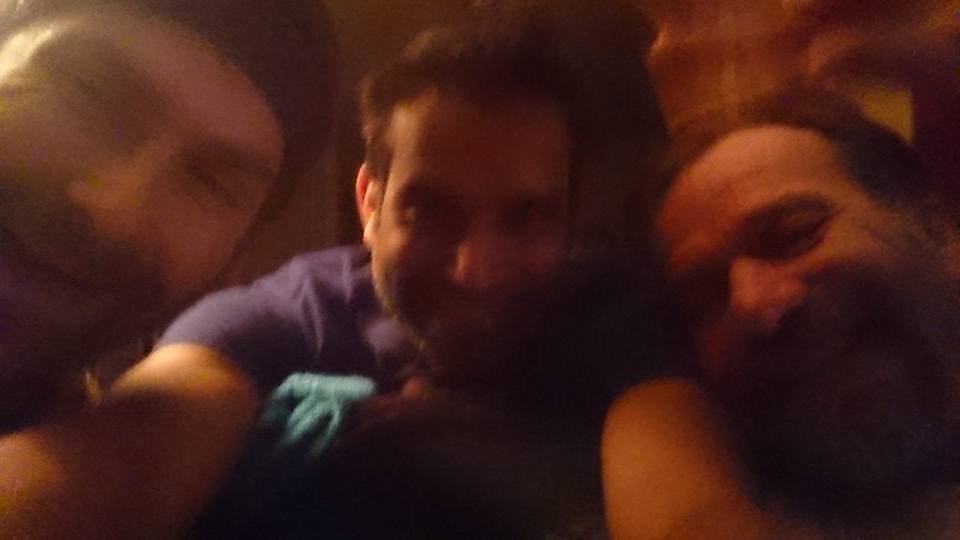 He even left me there looking after his dog Zena while he flew off to LA to do his first Joe Rogan interview. I was working on the music while he was hanging out in LA with Joe Rogan, Oprah Winfrey and the infamous record producer Rick Rubin, a personal hero of mine.
When Wim got back, we recorded a load of stuff, including demos for projects which have yet to be finished.
These projects may still play out, but lets just say things kinda got put on hold after all the excitement had settled.
Wim's a busy guy and has only continued to become an even bigger phenomenon after we met him, so trying to arrange another time to record again properly became pretty tricky. Especially after I went wandering off my own journey of self reflection, which I'll maybe open up about later.
Also there are other elements to this story which I wont go into here, so let's just leave it at that.
I will say, while it was all a lot of fun, I also had to learn some life lessons from this period. As I said I went on my own journey and had periods of deep self reflection to contend with.
Looking back this seems like one of the craziest periods in my life, yet I was also blessed to have been able to get know Wim on such a personal level.
He even had me on cooking duties after he tasted some of the food I was making myself. So not only was I recording music with Wim, I also became his personal chef. Heres a typical recipe he's 'borrowed' from me too… haha.
Anyway enough 😀
Here's a download of some of the music we recorded in this crazy time. Some of this is for sale on Wims website, but as a subscriber you can download it here for free.